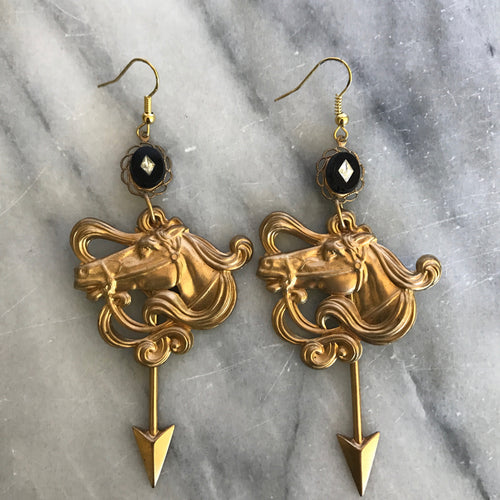 Hand Crafted
\
Ghost and Lola hand-sculpt contemporary jewelry for modern day Gypsies and Fashionistas from rare gems and vintage components, offering glamorous and exquisitely detailed hand-crafted one-off creations and limited edition seasonal collections merging a wealth of objects from many places, cultures and eras, vintage and contemporary.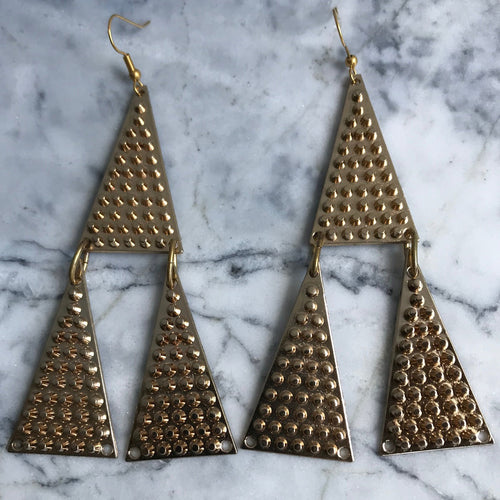 Inspiration
\
Eclectic, eccentric and elaborate, Ghost and Lola collections draw inspiration from a love of contemporary art and literature, merging the glamorous illusionary charm of the past with the light and dark of nature and myth. The result is a series of directional pieces, non-conformist in vision, glamorous and feminine with a distinct contemporary edge.
Vintage
\
Sculptor, Wendy Powitt, draws from her collection of rare vintage crystal & glass stones, dark brooding cameos, decorative chain, lucite, plastic and stainless steel to create lush and elaborate conceptual pieces, abundant, entrancing and engaging on both a visual and cerebral level.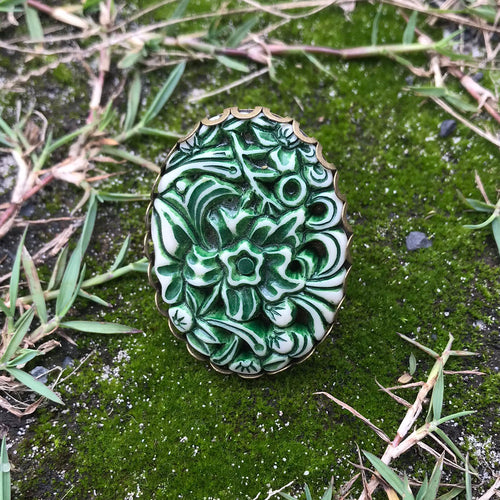 Sustainable
\
Our product shows how sustainable fashion can be both fabulous and good for the planet. We are passionate about breathing life and contemporary design into what already exists through creativity, and we encourage others to do so as well. We are based in Byron Bay and would love to share our design and sustainability ethos with you.
Wholesale Welcome
\
Ghost and Lola is found in Boutiques and Art galleries worldwide. We welcome wholesale queries as well as opportunities to exhibit our work or to collaborate with you for an exclusive piece that reflects your personality.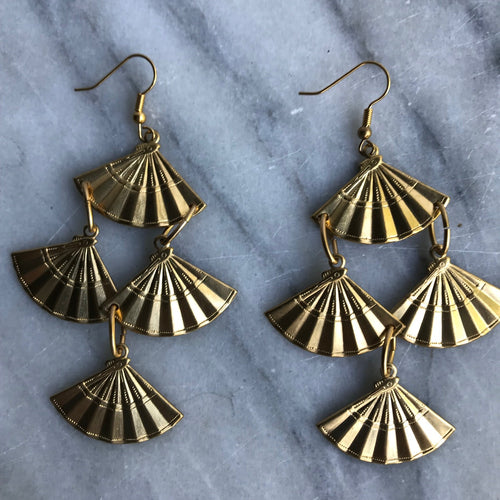 Ethical Fashion
\
Ghost and Lola hand-make all of our pieces at our studio in the sleepy Art Deco town of Murwillumbah on the far North Coast of NSW Australia. You are welcome to visit our studio at the M-Arts Precinct and watch our artisans slowly craft each piece in our collection.
We are committed to sourcing our components from vintage supplies already existent in the world. Our existing collection of vintage components, although vast, is always being added to as pieces come up at Auction or via Dealers throughout the world.
We currently source elements from USA, Czechoslovakia, Austria, Japan, Hong Kong, Australia, France, Belgium, Sweden and Russia. We source elements that were made for jewelers in a vintage era, but never used. In this way the components are both old and new at the same time.
Interview with Wendy Powitt
How would you describe yourself as an artist / a jeweler / a fashion designer / an artisan?


I would say I am dedicated to experimentation.
 I identify myself as an artisan who is evolving between craftsmanship and design, that is to say between tradition and creation.
 I have developed my design process almost as a painter who would research on emotions provoked by colour, pattern and textures, and engage in a result that would speak to shared inner feelings of beauty. Eventually I would like to consider myself as an artist, willing to create a whole atmosphere by my design practice.

How did your background in fashion design influence you for this adventure?

My initial approach to fashion was through art, traditional garments and crafts. I spent a lot of time gathering ideas of details, shapes, fabrics, colors and patterns. I trained formally in Garment Design, Textile Design and Patternmaking, then worked for a number of Designers both in Australia and in America. I travelled extensively, gathering ideas, learning new approaches and meeting a wide range of influencers that became life long friends.
I have always considered fashion as core to the expression of the Zietgeist, and I find it an exciting medium to work in, and it often challenges my thinking. For me fashion is the art of combining the soul of the times with a medium as old as human existence.

What fascinates you about Vintage Jewellery?


The history of each piece is important. Who made it for whom and why. Man has engaged in Body Adornment in some way or another since first thought. To adorn oneself is a celebration of self, an act of self love first and foremost. We dress to please ourselves first, then perhaps our friends, family and lovers. The vintage pieces that I use have a sense of energy through their past, and a quality that is difficult to find in new items these days. I most often use new old stock, which means that the components were designed and made in a vintage era for jewelers, but never used. These pieces occupy spaces in history and bring a challenge in reimaging them anew for a contemporary wearer.

Your pieces are often associated with a myth or story, why do you find this important?

The myth often reveals itself during the design process and it is part of my research-based practice. I am fascinated by how people think, and by how complex the stories that we live by are interwoven into the fabric of our society. The myth reminds me that we are not alone, we are part of a wondrous line of thought and heritage that stretches back through the eons and even if we do not revere these gods and goddesses any more their stories still impact our everyday life.

Is the impact of your work on society something you are concerned about?


I started working on my Collection : Ghost and Lola because I was feeling concerned about the way the classical fashion system works.
 Creating something new from new components each season, seems to me to be a waste of valuable resources and also kind of erases what you just achieved in the previous season and is not stimulating to me.
What I am moved by is much more time proof and universal, beautiful pieces that last, artisan handmade objects that take longer to create and produce. We all need to get ourselves into a new logic, one not of waste, but of quality.
 My inspirations are also kind of immutable, evolving quietly, in the details.

Can you tell me a little about the design process, how do you start your design ?


I always start with an archetype I want to work with, : Earrings, Necklace, Bracelet, Ring, Brooch, etc. I often have in mind a special story or Myth (the Egyptian Goddess of the Sky : Nut for instance.)
To this idea, I free associate, gathering, images of art pieces, interior design, places I visited, in which I find an atmosphere and inspiring techniques. I have a large collection of vintage pieces and I rattle about in my boxes to find the pieces that work together to create the piece that is the representation of the idea.
I work by collage, creating a perpetual mix between myths and stories of old, my very first loves in terms of contemporary fashion, and my collection of vintage pieces. It does all come from out of the fashion sphere.

How do you see yourself and your creations in the future?


I wish to keep on developing and questioning my methodology and output to build a true vocabulary of designs. Settling my own "classics" and continuing to experiment more and more with the manipulation of materials to create one of a kind pieces.
 I would love the studio to keep in mind its origin, to be part of a new generation, thinking about fashion differently: our designs are made to last for years and to be a personal daily luxury, objects of joy and pleasure for both the consumers and the makers.